The International Baccalaureate (IB) Diploma Program is a demanding, two-year program of curriculum and service that meets the needs of highly motivated secondary students. The Diploma Program offers a comprehensive and integrated approach to learning that prepares students for rigorous assessments in six subject areas during grades 11 and 12. Students must also complete Creativity, Activity, and Service (CAS), a 4,000-word essay of original research, and a Theory of Knowledge course. The International Baccalaureate Organization (IBO) awards its diploma to students who perform successfully on the six external examinations and fulfill all other requirements of the program at an authorized IB world school. It is recognized as the highest diploma currently offered by any high school in the world.  Students who do not wish to pursue the full diploma may take individual IB courses and receive certificates for successfully completing the IB assessments.
How is the IB program different?
The International Baccalaureate aims to do more than other curricula be developing inquiring, knowledgeable, and caring young people who are motivated to succeed. The IB program is different because it:
encourages students to think critically and challenge what they are told
is independent of governments and national systems, and there fore able to incorporate best practice from a range of international frameworks and curricula
encourages students to consider both their local and international environment.
---
"The IB Experience is not just a way to learn, it's a way of life."
---
Creating Internationally Minded Learners
There are ten attributes valued by the IB World Schools that can help people become responsible members of local, national, and global communities. As IB learners, we strive to be: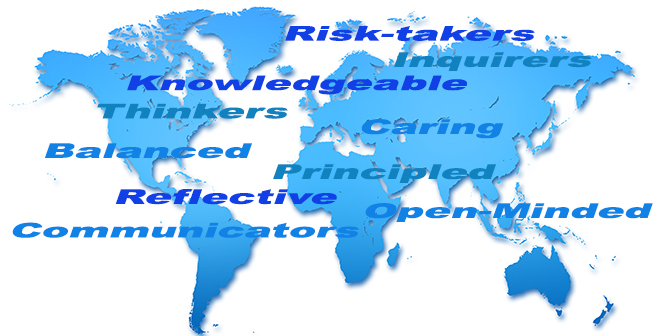 For general information about the IB program, go to www.ibo.org or click on this link for informative presentation on the IB Diploma Programme.